Jenny Pavlovic – Author Interview
by Cathy B Stucker
(Thank you to Cathy Stucker for this wonderful interview, which originally appeared at http://www.sellingbooks.com/jenny-pavlovic-author-interview.)
What is your most recent book? Tell us a bit about it.
My new book is the Not Without My Dog Resource & Record Book, for daily use, travel, and emergencies. I wrote this book because I couldn't find the book that I wanted for my dogs. It's compact, with a hard cover, records pages for all of your dog's important information, pages to insert photos of you and your dog, a sealed pocket for important records, and tips for living positively with your dog. It has a resources section with information on how to prevent your dog from getting lost, what to do if your dog gets lost, how to use a microchip effectively, how to make a disaster plan for your family and your pets, basic dog first aid, traveling with your dog, and more. I've learned a lot since Hurricane Katrina. I wanted to put all this information in one place to take along when I travel with my dogs, or leave with the dog sitter when I have to travel without them. I'm happy to share all that I've learned and hope this book will help keep dogs safe everywhere.
Tell us something about yourself.
I'm a dog lover, writer, speaker, blogger, animal rescuer, and biomedical engineer. I've helped rescue many dogs, and a few cats and horses, since Hurricane Katrina. My journey with rescued Katrina dog Kate changed just about everything about my life. I went down to Louisiana for a week to help care for rescued animals after Hurricane Katrina. I didn't go down there to get a dog, but I ended up evacuating ahead of Hurricane Rita with an old cattle dog who was running out of options. Kate inspired me to write my first book, 8 State Hurricane Kate: The Journey And Legacy of a Katrina Cattle Dog, because I didn't want her to be forgotten. Her story of being lost after Katrina with no identification represented so many lost animals. I hoped that writing her story would raise awareness about what happened down there and help me find out where she came from. Click here to learn more about Kate's story by watching the "Do You Know This Dog?" video. 50% of book profits from Kate's book are donated to the 8 State Kate Fund, providing financial relief for animals in desperate situations.
I currently live in Minnesota with Australian Cattle Dog (ACD) Bandit, rescued ACD-Collie mix Chase, and rescued ACD mix Cayenne. Bandit is "tough" guy who loves to herd cattle and play with his jolly ball. He's a lot of fun. He taught me to lead or get out of the way. Chase was rescued by my friend Sarah who I met in Louisiana rescuing animals after Hurricane Katrina. Sarah lives in Virginia, where she rescued Chase from a man who was going to shoot him for chasing sheep. Chase is a very sensitive guy who actually has a talent for herding sheep. Cayenne was rescued in Tennessee after being dumped in the wilderness with her baby littermates when they were too young to leave their mom. She was very sick and was nursed back to health by a kind woman named Deb. When Cay first came to my house, it took two of us to pull her out of the crate to get her out of the car. She was practically feral, afraid of just about everything, including me. She has come a long way and just graduated from an agility class where she did an excellent job.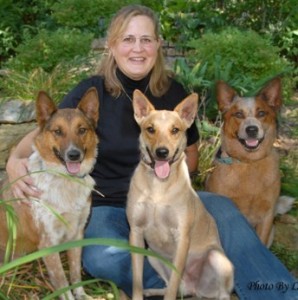 (Photo by L.S. Originals of Fridley, Minnesota)
One of my greatest rewards has been seeing rescued dogs recover from pasts of abuse, neglect, or trauma and begin to enjoy life. I have learned a lot from watching my herding dogs do what they were bred to do. Through working and living with them, I have become a better person and a more confident leader. After years of working with my dogs in obedience, rally, agility, herding, carting, tracking, acting tricks, and therapy dog work, with experience in TTouch, animal communication, and more, I'm beginning to feel pretty well trained! My day is not complete until I get out for at least one walk and ball game with the dogs.
How did you publish this book?
I was told that I would have to go to China to make such a journal-like book with a hard cover and special features, but I'm happy to say that I found a way to make it in the U.S.A. It will help keep people employed in Minnesota and New York. I founded the 8 State Kate Press when I self-published 8 State Hurricane Kate, and I made it a more formal business to publish the Not Without My Dog Book. This second book is much more complex, with many special features, and cannot be made print-on-demand like my first book. I'm very grateful for the people who stuck with me to help make this book a reality. I depend on wonderful editors, knowledgeable and supportive friends, an award-winning book designer, a very patient webmaster, a business consultant, and more.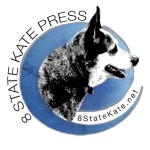 How did you know you wanted to be a writer? How did you get started?
I always liked to write and thought that I would write a book 'someday'. Then I got busy with daily life. When I was 5 years old, I created a little book about "the dog who couldn't say roof" and tried to sell it to my mom. No kidding. Isn't it ironic that 40 years later, I wrote a book to give a voice to Kate and all the lost Katrina animals. I guess I had that in me all along and Kate inspired me to put it out there.
What do you believe is the hardest part of writing?
The hardest part of writing is finding the time to do it on a daily basis and keeping your momentum if you have to spend most of your time doing something else to support yourself. I think we would have many more creative and inventive people if they could find a way to make a living doing what inspires them.
How do you do research for your books?
My books so far have mainly been 'researched' via my life experience. In both cases things that happened to me and that I learned along the way provided the basis for the book. While writing the Not Without My Dog Book, I consulted with experts and searched online to fill gaps in my knowledge and make sure my information was current. Writing the book was a great opportunity for me to learn. (Author's note: Noah's Wish provided significant information on disaster preparedness and caring for injured animals.)
Did you learn anything from writing this book? What?
I learned from creating this book—because this process has been one of creation and design in addition to writing—that my engineering background is useful in ways that I never knew before. I've also learned from creating both books that if you are open, clear about your intentions, and keep moving in the direction of your dreams; people and opportunities will appear before you.
Are you working on your next book? What can you tell us about it?
The Not Without My Dog Book is my next book, but don't be surprised to see a Not Without My Horse Book or a Not Without My Cat Book in the future!
What is the best advice you could give other writers about writing or publishing?
The best advice that I can give came from a horse named Ruby. Her message was, "Don't let anyone tell you that you can't do something" (click here to read the rest of the story.) I also want to repeat that if you are open, clear about your intentions, and keep moving in the direction of your dreams, people and opportunities will appear before you. I'm very grateful that I took a chance by going down to Louisiana by myself to help care for rescued Katrina animals. I was compelled to go and my life hasn't been the same since, because I acted on something that mattered to me. I'm very grateful for all the friends I made along the way, all the people who supported Kate and me, and all the people and animals who appeared in my life when I needed them most. None of this would have happened if I hadn't taken a risk and overcome fear to follow a compulsion to do something to make a difference.
What are you doing to promote your latest book?
I'm well-networked on Facebook, in a way that I wasn't when my first book came out in 2008. I now have blog, newspaper, radio and TV contacts, friends across the country from my Katrina animal rescue experiences, an e-mail list, and a long list of Facebook friends. I'm also promoting that this book is made in the U.S.A. I think it's important that we support U.S. industry if people in this country want to be employed. Go into any store and look at the photo books and journal-type books. I dare you to find even one (other than mine) that's made in the U.S.A. The Not Without My Dog Book will be sold online and eventually in pet supply stores and gift shops, maybe even at the Minnesota State Fair and beyond. It may also have a corporate sponsor… stay tuned!
Where can readers learn more about you and your book?
Click here to learn more about my books, read my blog, see videos, find my press room, and more. Click here to listen to recent radio interviews. Click here to become my friend on Facebook and here to become a fan of 8 State Kate Press on Facebook. I update my friends on Facebook most often. Subscribe at http://www.BookTour.com to be notified of my upcoming events. Subscribe to "8 State Hurricane Kate" and "8 State Kate" videos at http://www.YouTube.com to be notified when new videos are uploaded.
I want to say one more thing… please turn off all electronic devices today and give your undivided attention to the animals in your life. They are much more complex than you may realize and they have a lot to give and teach you. Please pay attention to them and do your best to understand them and give them a great life. This world will be a better place once we change our attitudes toward animals, appreciate their wisdom and beauty, love them, and stop throwing them away.
Posted on July 6th, 2010 Filed under: General