Click here to read the June 2010 Jenny Pavlovic author interview by Cathy B. Stucker and learn the story behind the Not Without My Dog Resource & Record Book.
This page provides background information about the book 8 State Hurricane Kate: The Journey and Legacy of a Katrina Cattle Dog and its author, Jenny Pavlovic. It also shows press releases and other news related to the book. Please see the "Calendar of Events" page for upcoming appearances and book signings, and click on the "8 State Hurricane Kate Videos" link on the right to see the video book trailer and "Do you know this dog?" video.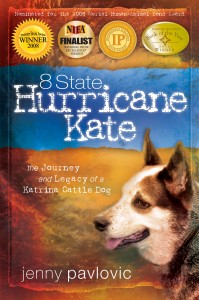 Downloadable images of the front and back cover and excerpts from the book are shown below. Just click on "Image" or "Excerpt" to download.
Image 1 (Front Cover)
Image 2 (Back Cover)
Image 3 (Testimonials)
Image 4 (Testimonials)
Excerpt 1 (Chapter 1)
Excerpt 2 (Chapter 6)
Excerpt 3 (Chapter 16)
Excerpt 4 (Appendix)
See author photo below.
8 State Hurricane Kate: The Journey and Legacy of a Katrina Cattle Dog
Summary:
On August 29, 2005, Hurricane Katrina roared into New Orleans, Louisiana, unleashing a torrent of wind and water that forever altered the landscape. In the ensuing weeks, countless people and animals were rescued from the flood-ravaged city. 8 State Hurricane Kate is the unforgettable story of the powerful bond between a cattle dog rescued from a rooftop and the woman who wouldn't give up on her.
The heartwarming story of Kate's post-Katrina journey is a testament to the will and perseverance of the dog and human spirit! As they make that courageous journey together, new worlds open up for Jenny and Kate, an amazing survivor and teacher. Kate's remarkable journey, a tale of love, courage, and compassion, has inspired many others. Her legacy is a rescue network that continues to help dogs across the country today.
Background:
Jenny started writing this book because she didn't want Kate to be forgotten. She also wanted to tell the stories of the Katrina survivors, the animals and people that Kate and Jenny met on their journey. Along the way, Jenny was inspired to continue writing because she hoped the book would help her find Kate's original family. As the network grew, the book became something larger, an opportunity to give something back. Thus, the 8 State Kate Fund was born. A portion of book profits is donated to help animals in desperate situations. To learn more, go to the 8 State Kate Fund page.
Trade Information:
Title: 8 State Hurricane Kate
Subtitle: The Journey and Legacy of a Katrina Cattle Dog
Author: Jenny Pavlovic
US Trade Paperback: 294 pages
Trim Size: 6″ x 9″
Language: English
Publisher: 8 State Kate Press 
Date of Publication: February 2009 (2nd Edition)
Price: $18.95
ISBN/EAN13: 978-0-578-00777-9ISBN/EAN13: 97-81438-21649-2
Library of Congress Control Number: 2008905570
 
About the Author: 
Jenny Pavlovic, Ph.D. is a biomedical engineer by vocation and a "dog person" by avocation. She has adopted and rescued purebred and mixed breed dogs, and currently lives in Minnesota with Australian Cattle Dog (ACD) Bandit, rescued ACD-Collie mix Chase, and rescued ACD mix Cayenne. One of her greatest rewards has been seeing rescued dogs break away from pasts of abuse, neglect, or trauma and begin to enjoy life. Jenny has also learned a lot from watching her herding dogs do what they were bred to do. Through working and living with them, she has become a better person and a more confident leader.
Jenny, Chase, Cayenne, and Bandit
Jenny has trained her dogs in obedience, rally obedience, agility, herding, carting, tracking, acting (tricks), and therapy dog work. Her day is not complete until she gets out for a walk and a ball game with the dogs. She is active in Australian Cattle Dog rescue and has helped rescue many purebred and mixed breed dogs since Hurricane Katrina. You can see their stories on the Happy Endings page.
Jenny is grateful for the new friends that she met through her Katrina rescue efforts and to all those who supported Kate. Having the faith to take that unknown journey led to many new riches in her life.
Jenny has published technical abstracts, patents, and magazine and newspaper articles. 8 State Hurricane Kate is her first book.