Live Links from the Not Without My Dog Resource & Record Book
by Jenny Pavlovic
(copyright 2010)
"Jenny Pavlovic combines heartfelt, uplifting Katrina experience with her passion for helping dogs in this important new book. Not Without My Dog provides owners with a customized portable and personal resource filled with empowering, life-saving information.
The URLs alone are priceless!"  
— Amy D. Shojai, CABC and author of 23 pet care books including The First-Aid Companion for Dogs & Cats and PETiQuette: Solving behavior problems in your multipet household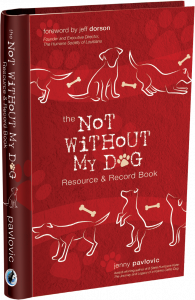 Here are the live links from the Not Without My Dog Resource & Record Book
(in order of appearance):
(Click on the link to go to that page. Click on the back arrow or back button to return to this page)
8 State Kate Press: http://8StateKate.net
Rebecca Lynch, KPA CTP: http://k9Clicking.com
Noah's Wish: http://NoahsWish.info
The Humane Society of Louisiana: http://humanela.org
Shutterfly: http://Shutterfly.com
Getting a Dog
Finding a Good Dog Breeder: http://dogtime.com/finding-a-good-breeder.html
Learn more about puppy mills:
http://aspca.org/fight-animal-cruelty/puppy-mills
http://mainlinerescue.org/puppy-mills/puppys_parents
Choosing a Veterinarian
The American Veterinary Medical Association (AVMA): http://avma.org
The American Holistic Veterinary Medical Association (AHVMA): http://ahvma.org
AHVMA Member Referral Search: http://holisticvetlist.com
The American Veterinary Chiropractic Association (AVCA): http://animalchiropractic.org
The Academy of Veterinary Homeopathy (AVH): http://theavh.org
International Veterinary Acupuncture Society (IVAS): http://ivas.org
Tallgrass Animal Acupressure Institute: http://animalacupressure.com
Records Section
Learn more about how to prevent inappropriate biting at http://doggonesafe.com
Learn more about finding a good dog trainer at http://apdt.com/petowners/choose/default.aspx
Don't assume you can learn to train your dog just from watching TV: http://apdt.com/petowners/choose/tvtrain.aspx)
Find more information on "Nothing in Life is Free" (NILIF) practices at http://k9deb.com/nilif.htm
Learn how to prepare your dog for the arrival of a new baby and learn more about understanding dog body language and dog bite prevention at http://doggonesafe.com
Find helpful information about clicker training at http://clickertraining.com
To use your new clicker training skills, look up "101 Things to Do with a Box" at http://clickertraining.com/node/167
Learn more about Tellington Touch (TTouch) methods at http://TellingtonTouch.com
Learn more about dog food and find the right food for your dog at http://dogfoodanalysis.com
Learn more about itching and skin problems at http://aspca.org/pet-care/dog-care/dog-care-allergies.html  and http://herbsmithinc.com/dogclearallergies.asp
Search for dogs in need of homes at http://Petfinder.com
Ways that you can help rescued animals:
Look online for a transport group in your area, such as the Midwest Rapid Transit group at http://pets.groups.yahoo.com/group/MidwestRapidTransit
Click daily for free food donations to shelters at http://theanimalrescuesite.com
Find more ideas and information on "Helping to Rescue" at http://www.8statekate.net/wordpress/?page_id=8
Dogs with arthritis may benefit from a supplement like Cosequin http://nutramaxpet.com or Dog-Gone Pain http://doggonepain.com
Learn about Reiki at http://reikifurbabies.com and http://shelteranimalreikiassociation.org
Mask loud noises with a white noise machine (i.e. from http://sleepwellbaby.com)
Separation anxiety:
I'll Be Home Soon!: How to Prevent and Treat Separation Anxiety, by Patricia McConnell http://PatriciaMcConnell.com
Find more helpful tips at http://www.aspcabehavior.org/articles/40/Separation-Anxiety.aspx
Your dog may benefit from Rescue Remedy for Pets http://rescueremedy.com/pets, other plant and flower essences like Calm Shen from Herbsmith, Inc. http://herbsmithinc.com, or synthetic pheromones such as Comfort Zone http://petcomfortzone.com
If you must leave your dog home alone all day, consider hiring a dog sitter to visit and let her out while you're gone. Learn more at http://petsitters.org
Learn more about what to look for in a dog day care at http://canismajor.com/dog.daycare.html
On occasions like the 4th of July when you know your dog will be upset by loud noises, keep her safe inside, away from the commotion. Rescue Remedy for Pets http://rescueremedy.com/pets, Calm Shen from Herbsmith, Inc. http://herbsmithinc.com, or Comfort Zone http://petcomfortzone.com may help calm your dog.
Learn how to give calming signals to your dog by reading Turid Rugaas' book On Talking Terms with Dogs: Calming Signals or exploring her website http://TuridRugaas.com
Learn more about finding help with dog behavior problems at http://iaabc.org and http://www.aspcabehavior.org/articles/32/Finding-Professional-Help.aspx
Learn about animal communication and find a consultant at http://animaltalk.net/consultlist.htm
Frankie the Walk 'N Roll Dog gives us positive messages about dogs and people with different abilities. Find resources for disabled dogs and learn more about Frankie's true storybooks at http://JoyfulPaws.com
Helpful information for dogs with cancer is provided by The Morris Animal Foundation http://curecaninecancer.org and The Pet Cancer Foundation http://Petcancerfoundation.org
Learn about food, house and garden items that are dangerous for your dog at http://www.aspca.org/pet-care/poison-control
Please do not keep your dog tied outside. A tethered dog is trapped and vulnerable and may develop defensive and dangerous territorial habits. Many states have laws prohibiting you from keeping your dog tethered outside. Learn more at http://dogsdeservebetter.org
Laws that, when effectively enforced, have the best chance to make our communities safer include those that prohibit tethering and animal fighting and support licensing, leashing, spaying and neutering and require all owners to control their dogs, regardless of breed. Learn more at: http://aspca.org/fight-animal-cruelty/dog-fighting/breed-specific-legislation.html
Preparing for and grieving the loss of a companion animal:
Spirits in Transition http://SpiritsinTransition.org believes that supporting a dying animal is an art that can be learned. They help people understand the dying process and provide the best possible care for their animal friends throughout their passing.
Sid Korpi addresses issues surrounding the loss of an animal companion in her book Good Grief: Finding Peace After Pet Loss http://goodgriefpetloss.com
Other helpful books on this topic include: Saying Goodbye To Your Angel Animals: Finding Comfort After Losing Your Pet by Allen and Linda Anderson http://angelanimals.net and Blessing the Bridge by Rita M. Reynolds http://blessingthebridge.net
Resources Section
This section includes information provided by Noah's Wish http://NoahsWish.info
What You Can Do Now to Prevent Your Dog from Getting Lost and to Help You Find a Lost Dog
Amber Alert for Pets: I recently learned of an online "amber alert" network for lost pets. I don't have direct experience with this network, but you can find more information at http://FindToto.com
The Missing Pet Partnership is a good resource for people who are searching for their lost dog, with helpful pet recovery and "lost dog" poster information on their website http://missingpetpartnership.org
What a Microchip Is and How to Use One
Microchip Basics:
You may register your dog's microchip information in a central directory: http://petlink.net
Microchip Frequency and Universal Scanners
The American Animal Hospital Association's Universal Pet Microchip Lookup Tool http://petmicrochiplookup.org provides a listing of the microchip manufacturer and indicates whether the chip information is found in one of its participating registries. Chloe Standard's database http://checkthechip.com displays the microchip manufacturer and contact information. However, not all microchip companies are included in these two databases.
Disaster Preparedness
Contact your area Community Emergency Response Team http://www.citizencorps.gov/cert to find out about hazards that may threaten your community.
Dog Disaster Supply Kit Checklist
Harnesses and martingale collars may be purchased at http://Petwearusa.com
Help for Animals in a Disaster Situation 
More info at http://www.noahswish.org/programs/

Disaster Preparedness Resources
Basic Animal Rescue Training (BART): http://BasicAnimalRescueTraining.org
Community Emergency Response Team (CERT): http://citizencorps.gov/cert
Emergency Animal Rescue Service (EARS, of United Animal Nations): http://UAN.org
MuttShack Animal Rescue Foundation: http://MuttShack.org
National Association of Professional Pet Sitters (NAPPS): http://PetSitters.org
NAPPS provides a free downloadable quick reference for emergency planning at http://petsitters.org/docs/DisPrepFlier.pdf and the free, downloadable "Emergency Planning Guide for Pet Owners" at http://petsitters.org/cfincludes/MemberCenter/pdfs/DPPetOwner.pdf 
Petfinder Animal Emergency Response Network: http://disaster.petfinder.com/emergency/
Resources for Activities to Enjoy with Your Dog
(Details provided in the Not Without My Dog Resource & Record Book)
American Kennel Club (AKC): http://www.akc.org/
American Mixed Breed Obedience Registration (AMBOR): http://ambor.us
Australian Shepherd Club of America (ASCA): http://asca.org
All purebred dogs and mixed breed dogs are eligible to compete in performance events.
Canadian Kennel Club (CKC): http://www.ckc.ca
Also for Canadians: Canada's Guide to Dogs http://canadasguidetodogs.com
United Kennel Club (UKC): http://www.ukcdogs.com
For kids: Many of the above organizations have special juniors programs. Your local 4-H club may have also programs with dogs http://4-h.org/
……………………………………………………………………………..
The following organizations focus mainly on one activity. Some of these activities are also offered by the organizations listed above.
Agility:
General Information http://affordableagility.com/learning/the-organizations.htm
Canine Performance Events, Inc. (CPE) http://k9cpe.com
North American Dog Agility Council (NADAC) http://nadac.com
United States Dog Agility Association (USDAA) http://usdaa.com
Carting, Draft Work:
Good general information at http://dogworks.com
Check with your local breed club (i.e. Newfoundland, Bernese, etc.)
Dancing with Your Dog:
Canine Freestyle Federation, Inc. http://canine-freestyle.org
Musical Dog Sport Association http://musicaldogsport.org
World Canine Freestyle Organization http://worldcaninefreestyle.org
Disc Dogs:
General information at http://discdoggin.com/OrgLinks.html   
Search online for a local club in your area.
Dock Dogs:
Earthdogs:
Herding:
All Breed North American Stockdog Clubs: http://stockdog.com/clubs/usorg.htm
AHBA: http://ahba-herding.org
Hunting/ Field Trials:
Amateur Field Trial Clubs of America: http://aftca.org
Bird Dog Foundation, Inc. http://birddogfoundation.com
Search and Rescue (SAR):
American Rescue Dog Association (ARDA): http://ardainc.org
National Association for Search and Rescue (NASAR): http://nasar.org
National Disaster Search Dog Foundation: http://searchdogfoundation.org
Search and Rescue Dogs of the United States (SARDUS): http://sardogsus.org
Skijoring:
Therapy Dogs:
Delta Society Pet Partners: http://deltasociety.org
Love on a Leash: http://loveonaleash.org
Therapy Dogs International (TDI): http://tdi-dog.org
Therapy Dogs, Inc.: http://therapydogs.com
Resources for Older Dogs and Dogs with Different Abilities ('Handicapped' Dogs)
Older Dogs:
Grey Muzzle Organization: Helping homeless senior dogs http://greymuzzle.org
Old Dog Paws: http://olddogpaws.com
Old Dogs: Taking care of older dogs http://informativeguide.com/agingdogs
Sanctuary for Senior Dogs: http://sanctuaryforseniordogs.org
Senior Dog Project: Looking out for older dogs http://srdogs.com
Top Dog Foundation: http://topdogfoundation.org
Dogs with Different Abilities:
Blind Dogs: http://blinddogs.com
Deaf Dog Education Action Fund: http://deafdogs.org
Deaf Dog Owners: http://catatonic.freeservers.com/penny/deafdogs.html
Deaf Dogs Atlas: http://deafdogsatlas.com
Dodger's List: Disc disease support and education http://dodgerslist.com
Eddie's Wheels: Help for handicapped pets http://eddieswheels.com
Handicapped Pets: http://handicappedpets.com
Pets with Disabilities: http://petswithdisabilities.org
Rolling Dog Ranch Animal Sanctuary: http://rollingdogranch.com  
Tripawds: Resource center for 3-legged tripod dogs http://tripawds.com