Cay and I had a great time at the Minnesota Valley Humane Society Woofer & Hoofer walk on Saturday. We're grateful that our friend Sylvia joined us in our book booth and donated to the MVHS.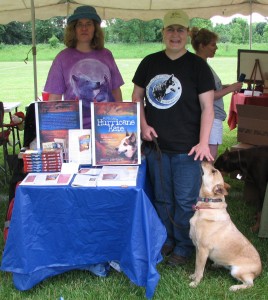 We were fortunate to have a booth next to Allen and Linda Anderson with their Angel Animals books. Allen and Linda have a new book coming out in November, "Dogs and the Women Who Love Them: Extraordinary True Stories of Loyalty, Healing and Inspiration" (see poster on right in the photo below). 8 State Kate's story is included in this wonderful book!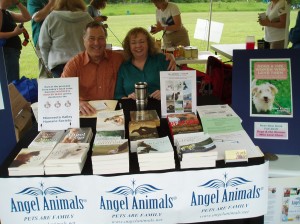 Thanks to our generous friends and family, Cay and I raised $450 for the MVHS, toward our goal of $555 (to match the amount we raised last year). If you'd like to support the MVHS, you may still donate at http://www.firstgiving.com/jennypavlovic. Last year, the MVHS helped over 3,000 animals in need.
Cay did a great job mingling and meeting people. I was very proud of her. It was hard to believe that just a couple of years ago, she was afraid of everything. Look at her now! Thank you to Deb Foster in Tennessee, Homeward Bound Rescue in Minnesota, and Sue Cameron-Day in Ontario for saving Cay and her littermates.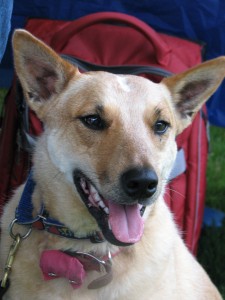 Posted on June 8th, 2010 Filed under: Book Tour--Virtual, Cayenne/ Zulu, Events, General, News