Win your own signed copy of the deluxe hardcover, limited edition Not Without My Dog Resource & Record Book! The contest began on October 24th and runs through midnight on Tuesday, November 2nd. The winner will be selected at random and will be announced on November 3rd.
To enter the contest, simply begin following @8StateKate on Twitter and tweet this message:
Enter to win a signed Not Without My Dog Resource & Record Book. Just follow @8StateKate & Retweet. See http://bit.ly/dbgozQ #WINNWMD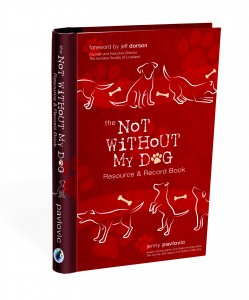 "This book is a must-have for all dog lovers and would make a great gift. There is nothing else like it!"
—Dr. Marty Becker, "America's Veterinarian"
"My post-Katrina animal rescue experience and my journey with 8 State Hurricane Kate taught me a lot about keeping your dog safe and learning to live in better harmony with your dog. This is the book that I wanted to organize all of my dog's information, for daily use, travel, and emergencies. Grab it and go!" 
—Author Jenny Pavlovic
Click here to view the video. Click here to look inside the book. Click here to order.
The new Not Without My Dog Resource & Record Book has everything you need for your dog in one convenient package. This compact, journal-style book has space for your dog's vet records, emergency contacts, and other important information, with tips for positively training and enjoying your dog. It also includes sections on how to keep your dog from getting lost (and what to do if your dog is lost), how to use a microchip effectively, traveling with your dog, first aid tips, activities to do with your dog, and more. It includes disaster preparation information from Noah's Wish, a group that rescues animals in disaster situations and a template for making a disaster plan for your family and pets. Special features include a durable hard cover, concealed wire-o binding that lays flat for writing, archive-quality photo pages for inserting photos of your dog and you, a sealed pocket for important records, tabbed pages for quick access, checklists, and more. It's even made in the U.S.A.! A limited number of these deluxe hard cover edition books are available.
"Each person who adopts a dog needs to be given this important book." 
—Allen and Linda Anderson, Founders, Angel Animals Network and Authors of Rescued: Saving Animals from Disaster
"A valuable guide you'll find yourself turning to again and again throughout your dog's life."
—Kyra Kirkwood, Author of Move Over, Rover!
Click here to order.