2010 Book of the Year Award Finalists Announced
ForeWord Reviews is pleased to announce the 2010 Book of the Year Awards list of finalists. Representing more than 350 publishers, the finalists were selected from 1,400 entries. These books are examples of independent publishing at its finest.
The Not Without My Dog Resource & Record Book by Jenny Pavlovic (8 State Kate Press) is a finalist for the 2010 Book of the Year Awards in the "Pets" category. The Not Without My Dog Resource & Record Book also won a USA Book News Best Books 2010 Award.
This compact, journal-style book has space for your dog's vet records, emergency contacts, and other important information, with tips for positively training and enjoying your dog. It also includes sections on how to keep your dog from getting lost (and what to do if your dog is lost), how to use a microchip effectively, traveling with your dog, first aid tips, activities to do with your dog, and more. It features disaster preparation information from Noah's Wish, a group that rescues animals in disaster situations (www.NoahsWish.info) and a template for making a disaster plan for your family and pets. Special features include a durable hard cover, concealed wire-o binding that lays flat for writing, archive-quality photo pages for inserting photos of your dog and you, a sealed pocket for important records, tabbed pages for quick access, checklists, and more. It's even made in the U.S.A.! This book will make getting organized, prepared, and better connected with your dog a joy for you. Learn more at www.8StateKate.net.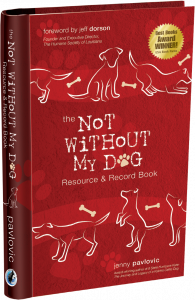 About the Author: Dog lover, author, speaker, animal rescuer, biomedical engineer, and founder of the 8 State Kate Fund, Jenny Pavlovic is the award-winning author of 8 State Hurricane Kate: The Journey and Legacy of a Katrina Cattle Dog. When she couldn't find the book she wanted to keep all of her dogs' information in one place, she created the Not Without My Dog book, with valuable content learned from her post-Katrina animal rescue experience and from training with Noah's Wish. Jenny lives in Minnesota with her three dogs, Bandit, Chase, and Cayenne, and cat Gingersnap.
ForeWord Reviews' Book of the Year Awards program was established to help publishers shine an additional spotlight on their best titles and bring increased attention to librarians and booksellers of the literary and graphic achievements of independent publishers and their authors. Award winners are chosen from real librarians and booksellers, who are on the front lines everyday working with patrons and customers.
ForeWord is the only review trade journal devoted exclusively to books from independent houses.
####
Posted on March 14th, 2011 Filed under: General