First, an update on how Bandit and Chase are doing.
Chase completed 21 radiation therapy treatments for colonic adenocarcinoma on August 23rd. He had a stellar follow-up appointment two weeks later. On September 24th he returned to his volunteer mission at the local library, where kids read to him. On October 15th, he had a CT scan to show the status of the cancer cells. There was no evidence of cancer at the original site, for which I am very grateful! We will need to carefully watch some tiny spots in Chase's lungs and a spot on his liver, to make sure the cancer has not metastasized. The oncology vets recommended another CT scan by the end of the year.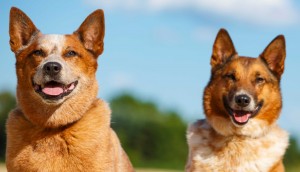 Bandit and Chase (photo by Barbara O'Brien)
Ironically, Bandit completed his therapy dog certification in August so he could substitute for Chase at the library if Chase didn't feel up to it. But Bandit was diagnosed with multiple myeloma in September, just after Chase completed his follow-up appointment. Bandit and I had been training all summer for a fall tracking test. One day he just couldn't work, for the first time in his life, and I knew something was terribly wrong. After Bandit was diagnosed and began daily chemo meds in September, he lost a lot of weight even though he was eating twice as much as before. We have been adjusting the meds in an effort to treat the disease while allowing him to maintain his weight. This requires regular blood and urine checks and the involvement of a veterinary nutritionist. Bandit is still losing about a pound per week, and I'm still trying to find the best way to help him maintain his weight. He will be 10 years old on November 13th. His father lived to be 16 and his mother is still going strong at 14, so 10 is not that old for an Australian Cattle Dog.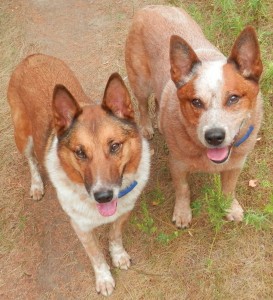 Chase and Bandit
Bandit and Chase, who are brothers by fate and heart, but not blood, carry on. If you saw them you wouldn't know they were sick, except that Chase has two bald patches on his butt, and Bandit is too thin. They jump out of bed every morning and enthusiastically greet the day. They shower me with a tremendous round of barking when I come home at the end of the day. They run, play, wrestle, go all out, and make great acrobatic leaps to catch flying squirrel frisbees. They've shown me how to live with a disease, truly LIVE with it, even while they may be dying from it. Attitude is everything. They are definitely making the best of every day.
Fetching the Flying Squirrels
I decided not to continue training with Bandit due to his rapid weight loss of mostly muscle mass. Now that the meds have him feeling better, he would probably still track, but I don't want him to lose any more weight. I'm sad that we weren't able to take the tracking test that we trained so hard for, but I'm very glad we spent that time together. And who knows, maybe he'll feel up to it in the spring.
I usually say that two of my dogs were diagnosed with cancer instead of "My dogs have cancer" because it could never define either dog entirely and, at least in Chase's case, I don't know whether he still has it. Each of my dogs is so much more than a being with cancer. In fact, if I weren't struggling with taking them to all the vet appointments along with working a full-time job, helping Bandit maintain his weight, and losing sleep sometimes over how to pay such astounding vet bills for not one dog, but two, we would most often carry on as usual.
We're all going to die from something, and none of us knows how much time we have left. The dogs don't know that the data says they're 'supposed to' have a limited amount of time. They just know when they feel well and want to get out and play ball and enjoy the day. I don't want to impose limits on them, and I'm happy to welcome any miracles that come our way. Dogs will be dogs, and my dogs are choosing to fully live with it, even possibly while dying from it.
I suspect that dogs are not afraid of death the way many people are. To them, and all of us, it's an inevitable part of life and they will probably see it coming before we catch on. I remember one day in August when Chase was not feeling well after an RT treatment. Bandit went over and just sat next to him and hung out, not the usual behavior for Bandit, but I could tell he was supporting his brother.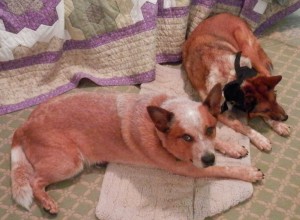 Bandit Supporting Chase after Radiation Therapy
I've never called my dogs "fur babies", which oversimplifies the relationship if you ask me. While I provide for them and they may be like my children in some ways, they are truly my teachers and mentors. They have taught me so much that I'm aware of, and no doubt I have missed many of their messages. Thus I don't think of them as babies in fur. I think of them as friends, companions, and teachers.
A friend told me about a person who died four days after receiving a cancer diagnosis. The guy was devastated and thought he was going to die early anyway, and in his mind gave up. I guess that's a difference between dogs and people. The dogs know that they've been ill, but they live in the moment and don't overthink or worry about the future.
I am worn out from all the appointments at different vet clinics, from trying to raise money to pay vet bills that cost about as much as a new car, and from resisting having to choose one dog's care over the other's. I'm starting to resent anything that takes time away from simply enjoying time with them. One of the benefits of being spread pretty thin over the past few months is that I've let go of things that don't matter. I'm spending more time with the dogs doing the simple things that are good for us: staying home and spending time together, hanging out, running and playing outside, eating healthy whole foods (including Omega Nuggets and Canine Shine), and really enjoying each other. I wish I had even more time to relax at home and be in tune with them.
Cay, Chase, and Bandit Enjoying the Day
On Chase's October library day, it was so inspiring to see the kids read to him. The regular readers improved tremendously over the summer. I love to see kids get excited about books. When many adults don't read books any more, it's good to see a younger generation being inspired by them. One little girl who is new to the program got very excited when she learned that after reading to Chase eight times, she will get to choose her very own book to take home. I heard her tell her mom that she'll get to take the book home and won't even have to bring it back to the library! She was so excited.
I'm very grateful to the librarian for getting this program going and continuing to promote it. It's fun to see the kids' confidence in their reading improve. Chase showed his appreciation for their reading by lying on his back with all four feet in the air! (Actually, Chase the herding dog listens best that way, with his eyes closed and no visual distractions.) He finds the most appropriate way to reach each child. If they're comfortable with him leaning in, he will. If they're not, he'll just put his paw on their leg, or touch the bottom of his foot to the bottom of their foot.
While developing their reading skills, the kids are learning about dogs. One little girl said that Chase is the only dog she isn't afraid of. He must sense this because he bows in front of her instead of standing over her. She wants to get a dog, and she remarked that 'having a dog is a big responsibility', something she must have been told at home. She has been inspired by Chase to read and learn about different dog breeds, and I have no doubt that one day she will be well prepared to care for her very own dog.
One middle-aged man stopped to pet Chase. He has stopped by on Chase's library day before. I don't know if this is coincidence or whether he comes specifically to see Chase, but Chase seeks him out now to say hi. He asked why Chase had bald patches and I told him about the cancer treatment. He then asked how recently it was and seemed genuinely concerned about Chase. And Chase seemed to genuinely care about him too.  I feel like I'm a student following along on this little dog's mission, learning from him along the way. I hope he has many good years left to continue this mission of sharing love.
No matter how much time we have left, we're going to truly live it and rock it out. That doesn't mean pretending nothing is wrong. That means being in tune with how each dog feels, being sensitive to each one's needs, and making the best of each day we have left together. It's not like I've decided to rock it out. It's just their approach to life, every day… something I've learned from my dogs, my teachers. They wouldn't have it any other way.
To help pay the veterinary bills, I'm selling the rest of my inventory of Not Without My Dog Resource & Record books at a steep discount. I have a limited number of these hard cover, journal-style books with photo pages, and do not plan to produce any more. They make great Christmas gifts for the dog lovers in your life, and are $15 each, plus shipping (or contact me for discounts on quantities of 10 or more). I will sign them personally if you wish. Learn more and order online at: http://www.8statekate.net/wordpress/?page_id=1542
To donate towards cancer care: http://tinyurl.com/bentleys-aglow Thank you!
Posted on November 5th, 2013 Filed under: Cancer, Dogs and Health, General, Kate's Family, News, Not Without My Dog, READ Dogs, Therapy Dogs