Earlier this year I wrote about taking a therapy dog class with Cay, and how far she's come since she first arrived here as a practically-feral adolescent 8 years ago. I had decided to enter Cay in the class because of the response she'd shown to my niece's children, fetching the ball over and over for a 3 year old boy, when she had never fetched the ball for me. She came alive while playing with those kids, and I thought she might like to become a library dog, like Chase, and have kids read to her.
In the therapy dog class, Cay made many friends and learned to do all of the exercises required to pass the Pet Partners therapy dog test. She sat on command, came when called, walked nicely by my side, and walked through a crowd. She let a stranger brush her and touch her. She even learned to be calm around wheelchairs and funny noises and people who move differently. She did very well, considering she was afraid of practically everything when I first met her.
After graduating from the class, we were scheduled to take the Pet Partners test the following week. Cay seemed to be ready for the real test since she had passed all of the exercises in class. But she had hurt her leg and was limping, so she was unable to take the test. We rescheduled at a later date and Cay and I continued to practice.
When the big day came, we started out well enough. But when I told Cay to sit, she just looked at me. She knows the word and knows how to sit, but for some reason she didn't want to. We tried again and she just didn't do it. Isn't it odd that she didn't do the exercise that most dogs know, the one that was supposed to be the easiest?
I wasn't particularly nervous since I'd easily passed the test with both Chase and Bandit in the past. I just wanted Cay and me to give it our best shot. Still, I could tell she was stressed by the test environment, with everyone in the room focusing on her. When we were in the class, with other teams in the room the attention was divided.
I thought about the test and what was different and how I might have helped Cay better. I tried to stay relaxed, perform my part consistently and do my best to support her. I even gave her calming signals. The message I got from her is that she really wasn't that interested in doing the exercises. After working with Bandit, a dog who competed in multiple types of performance events for many years and always did what I asked, and then with Chase, who is a natural therapy dog who has always done what I asked, I had to pause and think about what was happening with Cay. Although she had done very well in the class, she wasn't comfortable in the test environment. I had to listen to what she was telling me.
Cay doesn't want added stress in her life. She doesn't want to work to become anything, she just wants to be herself. She wants to hang out together, go for walks on the hill and by the river, and not strive for anything in particular. She wants to enjoy one another's company, enjoy the day, and celebrate life. We can all learn from her.
Each dog has lessons to teach us. I thought Cay wasn't hearing me when I told her to sit, but maybe I wasn't listening to her. And she's right. We could all use more time to just enjoy the day.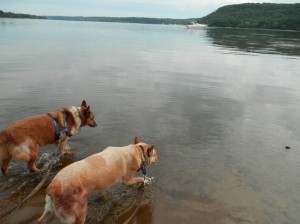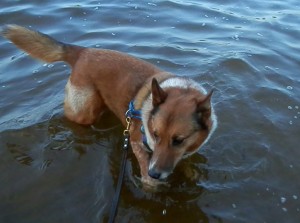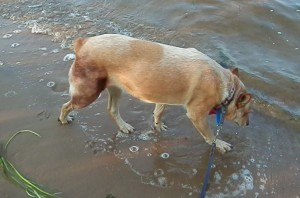 You could say we failed the therapy dog test. But I learned to listen better. Take it from Cay: Don't let the whole summer get away from you without taking time to relax and enjoy the day with your pups. Cay has come a very long way over the years and I think she would be a great therapy dog. I may consider taking the test with her again in the future, but that will be up to her. I'll keep listening and we'll see. For now, we're taking time to celebrate life.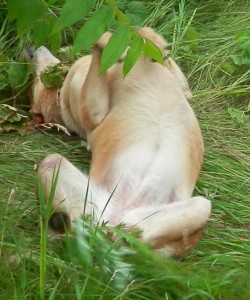 With all that's happening here this summer, Cay has taught me a valuable lesson. In August the kids will visit and Cay will get to play ball with them. Who knows, maybe they'll even read to her. 🙂
Posted on October 30th, 2015 Filed under: Cayenne/ Zulu, General, News, READ Dogs, Therapy Dogs