You may remember that I wrote about Specialist Gwen Beberg and her Iraqi dog Ratchet back on November 4th. Ratchet, a border collie mix puppy, was rescued by U.S. soldiers from a burning trash pile in Iraq and was cared for by Beberg. Ratchet helped Beberg cope with the hardships she faced during her time in Iraq. When it was time for Beberg to return to the U.S., she wanted to bring Ratchet back with her, she couldn't bear to leave him to the fate that awaited him in Iraq.When the Army put up barriers, Terrie M. Scott and other members of M.A.R.S. Safe Haven http://www.mars-safehaven.net launched a petition effort to save Ratchet and bring him to the U.S. They obtained over 70,000 signatures on behalf of Ratchet by working hard to get the word out through social networking, local news and radio around the globe, and through their animal rescue networks. After miles and miles of red tape were overcome, Terri Crisp of the SPCA International's Operation Bagdad Pups escorted Ratchet to the U.S. last fall (I met Terri, the founder of Noah's Wish, at a Noah's Wish training session in 2006). Gwen's parents, Pat and Ted Beberg, have been taking care of Ratchet here in Minnesota since October. Today Specialist Beberg finally returned home to Minnesota herself and was reunited with Ratchet and the rest of her family!
I had sent an 8 State Hurricane Kate book to the Beberg family, telling them about Kate, the dog that I couldn't leave behind in Louisiana. Gwen's mother Pat invited me to Gwen's homecoming event at the VFW in Fridley, Minnesota this afternoon. There was no way I was going to miss this event! I met Gwen's wonderful parents, Pat and Ted, and got to meet Ratchet while we waited for Gwen to arrive. The VFW was packed with friends, family, and the media. Even though I had not met Gwen, Ratchet, or the family before, I felt very excited and honored to be there. Ratchet was wound up too–he knew this was going to be a special day.
Eventually, the moment we had all been waiting for arrived and Gwen came through the door. An honor guard of veterans was lined up to meet her.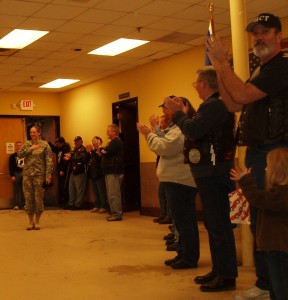 She walked across the room and hugged her mother tightly and then greeted Ratchet, who her father had on a leash (see photos below). Then she graciously answered questions and posed with Ratchet for photos until everyone was satisfied. Gwen said of Ratchet, "He was my own little personal comfort that I could go to whenever I was down or lonely. She continued, "It's absolutely amazing, astonishing how many people came forward to support Ratchet. She also mentioned that Ratchet was fed steak every Friday evening in Iraq and perhaps the dog treats and ice chips that she was feeding him today just weren't cutting it!
Ratchet and Spc. Beberg's plight gained worldwide attention last October after Ratchet was forcibly held in Iraq by the army. The detainment thwarted two attempts by SPCA International (http://www.SPCA.com) to bring Ratchet home for Spc. Beberg, through their Operation Baghdad Pups Program. Please go to their website http://www.baghdadpups.com/ to learn more about this program. They would appreciate your support.
Toward the end of the event, I had the opportunity to talk with Beberg and her friend Katie who helped get the word out about the M.A.R.S. petition to allow Ratchet to come to the U.S. Beberg said that stray dogs are considered a nuisance and are not treated well in Iraq. Ted Beberg told me that the Bebergs' goal is for the Army to change their policy with respect to situations like Ratchet's. Without all the publicity and support shown for Ratchet, he probably wouldn't have made it out of Iraq. What a remarkable family. Ratchet is lucky to have them! Gwen plans to train Ratchet as a therapy dog, an ambassador of goodwill. How perfect! By the way, Ratchet loves the snow here in Minnesota. He has settled in nicely.

Gwen and Ratchet Being Reunited: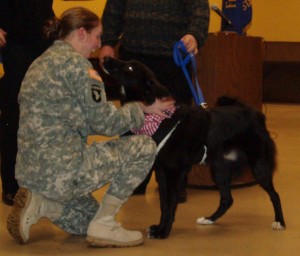 Gwen and Ratchet, with Pat and Ted Beberg Behind Them All the Way!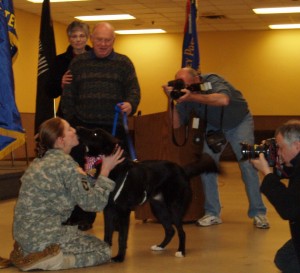 Gwen and Ratchet with Katie Konrath, a friend who helped get the word out about the M.A.R.S. petition to bring Ratchet to the U.S.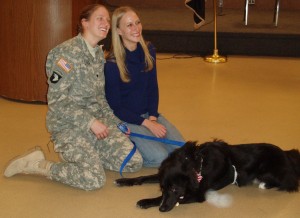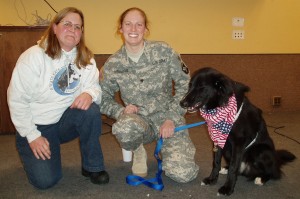 A photo of me with Gwen and Ratchet. What an honor!