Thursday, February 11th, 6:00 pm CST
Jenny will be on The "My Buddy Butch" Radio Show—listen from anywhere!
http://www.mybuddybutch.com/radio.html
Jeff and I will talk about my new book, the "Not Without My Dog" Resource & Record Book,
coming this spring.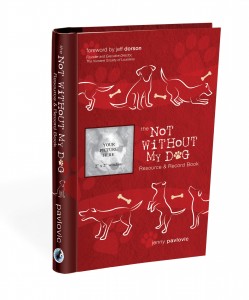 The "Not Without My Dog" book includes essential information about your dog in a user-friendly format for daily use, travel, and emergencies. It has a durable hard cover, fill-in-the-blank records pages, photo sleeves, a waterproof pouch for important papers, and information on keeping your dog safe, disaster preparedness, dog first aid, and more. The 8 State Kate Press produces this book, which is made entirely in the U.S.A.
Posted on February 5th, 2010 Filed under: Book Tour--Virtual, Calendar of Events, Events, General, News