I've had the great good fortune to travel to Bimini three times to spend time with wonderful people and swim with wild dolphins. On each trip, I traveled through Ft. Lauderdale International Airport. I experienced it as a rather crowded and stressful place, best endured in the company of friends. I can only imagine how terrified people were during the shootings that occurred yesterday. I've been meaning to share a positive story from the Ft. Lauderdale Airport, an experience I had in June. I think this is a good time to share, and hope that this story will encourage others to care for one another. So here it is:
Re-entry into the busy world and the crowded Fort Lauderdale International Airport wasn't easy. I'd just spent a week with a beautiful group of people and swam in the ocean with wild dolphins. I had enjoyed the peaceful time away with the dolphins and this pod of amazing humans who all took care of one another so well.
When I got to the airport, the airline wouldn't take my checked bag because they were only checking bags for an earlier flight. The line inside was very, very long and I had to check my bag before I could go through security. A few of my new friends were inside and I wanted to join them as soon as I could, to spend more time together before we flew off to different parts of the country.
I decided to check my bag outside. It was hot and the line was long, but not as long as the line inside. So I stood in line and waited, hoping for a guardian angel to help me along.
The older woman ahead of me in line carried a purse, a carry-on bag and a very large suitcase. I thought she was with the family in front of her, but as she struggled to move her suitcase when the line inched along, I realized she was traveling alone.
After almost thirty minutes of standing in the heat, the woman reached the front of the line. She wanted to check the large suitcase, and the airline employee told her she had to pay with a credit card. She offered cash, but no card. He told her that, without a credit card, she would have to go inside to wait in line again to check the bag. I thought, really? This older woman has waited out here in the heat for thirty minutes, the line inside is even longer, and you're telling her she can't check her bag? I had seen no signs indicating that you had to have a credit card.
The woman didn't speak much English and looked like she didn't know what to do. I asked the man what was needed. He said that $25 had to be charged to a credit card. I asked him if I could pay it with my card, and he said yes. So I gave him my card to pay her baggage fee. Since I was still in the frame of mind of automatically looking out for one another, I instinctively wanted to help this woman. She was alone, probably far from home, and didn't have an easy way to communicate.
The woman checked her bag. She thanked me with great sincerity, and we each went on our way.
I could tell that my act of kindness had an effect on the airline employees and perhaps gave them pause to empathize with this woman's situation. I think God might have winked, and perhaps had orchestrated the whole thing. I breezed through security and joined my friends in the airport for lunch and more time together before we had to part ways.
Later someone asked me, "So the woman paid you in cash and you paid by credit card?" And I said, "No, I just paid her baggage fee." I hadn't even thought about asking her for the cash. I was just thinking of taking care of a fellow human being, as people had been taking care of me for the past week.
When the credit card bill arrived a few weeks later, I remembered the woman at the airport and prayed that she'd arrived safely at her destination. I thought it ironic that I had hoped for a guardian angel to help me get through the airport, and thanked God for giving me the chance to be that angel for someone else.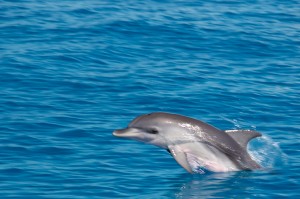 Photo by Atmoji of WildQuest
Posted on January 7th, 2017 Filed under: Dolphins and Whales, General